Clean eating can mean different things to different people. While for some this nutritional approach means no fast food, others may see it a bit more restrictive and only eat food that hasn't been processed. Whatever your definition of clean eating, this approach is one that promotes foods that have undergone minimal processing, such as fruits, vegetables, grains, and lean proteins, and cuts back on prepackaged foods made with preservatives, additives, and other ingredients. associated with processed foods.
If you're considering improving your approach to nutrition — whether for weight loss, to improve health stats, or just to shake up your eating habits — there are so many diets and food challenges you can try. One benefit of trying a clean eating challenge is structure. Having a clear overview of what you can and cannot eat and a timeline from start to finish can be encouraging and make a difficult task more accessible. If you're considering starting a clean eating challenge as part of your 2023 goals, I have a few great options for you to consider.
When evaluating the best clean eating challenge for you, there are a few factors to consider. A healthy nutritional approach should not be too restrictive. Sure, eating clean might mean less drive-thrus and baked goods, but overall, it should allow you to meet your nutritional needs every day. In addition, it should feel maintainable. One of the best ways to improve your eating habits is to choose an approach that works for you in the long run. Finally, even a short-term challenge should fit into your lifestyle. Factors such as the amount of time you can spend preparing food, food sensitivities and preferences, and daily activities are some examples of things to consider when choosing which clean eating challenge is best for you.
Read on to learn about my top picks for clean eating challenges. For more healthy eating tips to help you reach your health and wellness goals this year, be sure to check out Start 2023 on the right foot with these healthy pantry staples.
The popular food tracking app, MyFitnessPal, has a 10-day challenge to help you eat more "real food." It defines "real foods" as fruits, vegetables, meats, dairy products, seafood, nuts, seeds, whole grains and beans, but coffee, chocolate and even wine also count. The goal of this challenge is to avoid highly processed foods with long, complex ingredient lists. This challenge offers three different levels, allowing you to choose what is most sustainable and achievable for you. At level one, you aim to eat at least one meal of real food per day, while at level two and three, you aim for two to three meals of real food per day, respectively. This program also has a Facebook group that can provide additional support and has additional information and resources to encourage you along the way. Based on the simplicity of the challenge and the stepped starting point, this is a great option that offers some flexibility.
If you suspect there's something in your diet you don't like, the Whole30® Program can be a good challenge for you. While clean eating is the foundation of this challenge, the concept as a whole is different from other challenges on this list. This program consists of two distinct phases and recommends 30 days of elimination followed by 10 days of reintroduction. For the elimination phase, you'll be focused on eating real foods (similar to those in the MyFitnessPal challenge) while skipping added sugars, dairy, alcohol, grains, and legumes. After the 30-day elimination period, you can add foods that are missing during the 30-day phase back in to see how your body handles them.
While this is a more restrictive challenge, it's a great way to eat more cleanly while also determining if you have any food sensitivities. If you notice indigestion or other symptoms when reintroducing food, you may be hypersensitive and should see your doctor for further investigation. Another bonus: There are so many recipes available that go with this nutritional approach, leaving you with plenty of meal and snack options.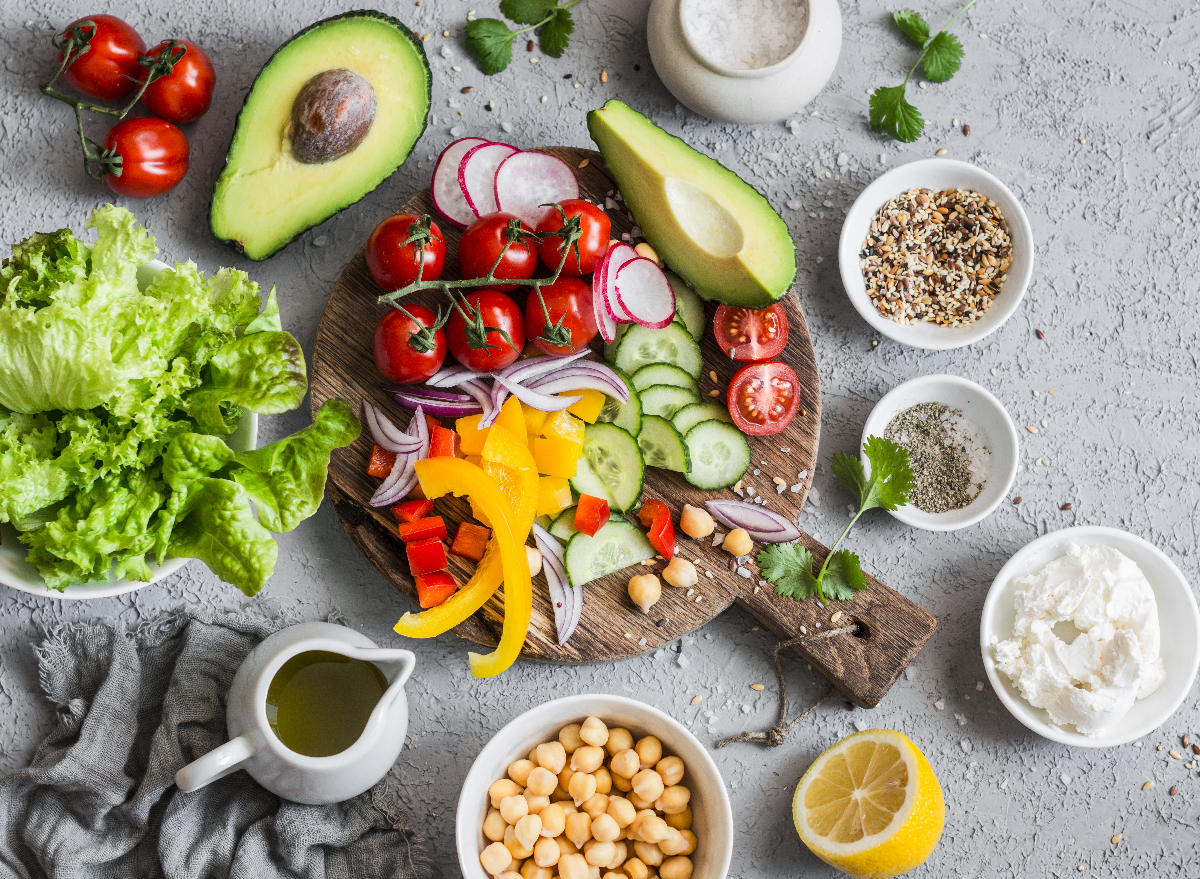 The Mediterranean diet is touted as a nutritional approach that can reduce the risk of cardiovascular disease, improve longevity and lead to healthier aging. With plenty of research and studies to support these benefits, the Mediterranean diet is a good option for those looking to improve these health metrics and more. While there is no single correct way to follow the Mediterranean diet, the eating habits of this diet are developed from the habits seen in Mediterranean countries.
There's tons of material and books you can read about this approach, but if you're looking for a simplified version to get started, this challenge is great. Every day you get a habit to work on that is consistent with the Mediterranean diet. For example, one day you focus on eating more vegetables, the next day you encourage a meatless approach and also find inspiration for recipes. At the end of your 30 days, you'll have a much better idea of ​​what the Mediterranean diet entails and a collection of better eating habits under your belt.
One of the more popular food trends in recent years is to eat more plant-based options. While vegetarian eating allows for some animal products, such as eggs and dairy products, vegan practices include zero animal-derived foods. Plant-based diets have been associated with a number of health benefits, including reductions in body mass index (BMI), blood pressure, blood sugar and blood cholesterol levels. With impressive benefits, this could be worth a try if weight loss and improving health stats are your goals.
If you're used to eating animal products, it can be daunting to consider a vegan diet, but this challenge makes it easy with a 30-day meal plan, ingredient lists, and daily tips. There's a lot of variety in the recipes offered, and many look easy, so this challenge can work even if you don't have a lot of time to spend preparing food. While there are health benefits associated with a vegan diet, being unaware of your food choices can lead to nutrient deficiencies. A daily vitamin supplement, in addition to a well-rounded vegan diet, reduces the likelihood of these deficiencies.
Similar to the Mediterranean Diet Challenge, this interactive click-list gives you daily eating habits to focus on while you work toward cleaner eating. Choose whole grains, drink water before a meal, cook with mushrooms, and enjoy fruits are just some of the daily challenges in this 30-day list. While this is not based on a specific diet like some of the others on our list, it is based on healthy eating habits that can improve health and can be easily applied within many different lifestyles. In fact, many of these practices within this challenge are consistent with the recommendations in the Dietary Guidelines for Americans 2020-2025. One of the biggest benefits of this challenge: It's accessible with small, daily habit changes that you can keep within your diet after this 30-day challenge.6254a4d1642c605c54bf1cab17d50f1e
If you're struggling to figure out where to start improving your diet, these challenges can help get the ball rolling. Structure, tips and a plan to follow are three components in each of these challenges. Choose what's best for you by determining how much change you want to make in your diet, how much flexibility you need to take on a clean eating challenge, and whether it fits into your lifestyle. There is no one right way to improve your diet, and hopefully these challenges will inspire you to make progress toward your goals.